How Does the
Referral Program Work?
Refer and earn with 123PayStubs. You can refer any number of businesses that are in need of professional pay stubs. For each referral, you will earn credits. Save more on your next paystub with the referral credits.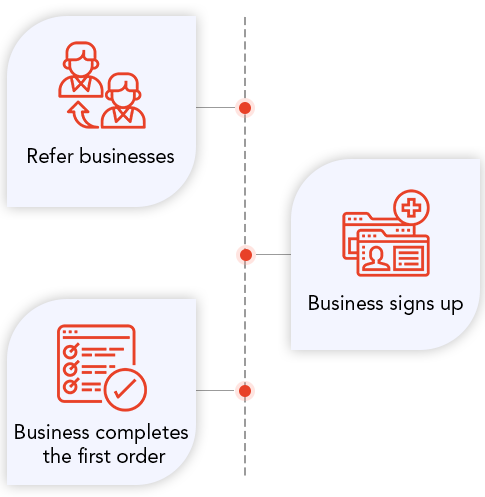 Refer businesses
Invite businesses to 123PayStubs by sharing your unique referral link or code.
Business signs up
A business signs up with 123PayStubs using your referral link or code.
Business completes the first order
When the business completes their first order, $1.49 will be added to your account as referral credits. The business you referred will also receive a credit of $1.49.
No maximum limit! Earn as much as you can!!
Frequently Asked Questions
How much can you earn?
There is no maximum limit for the referral credits you can earn using 123PayStubs. The more you refer, the more you earn. So, refer as many businesses as you can and earn maximum credits.
How can I use the referral credits?
You can use the referral credits to complete an order in 123PayStubs. The referral credits will appear under Order Details while you complete an order. To apply the referral credits available, check the Use Referral Credits box. The order amount will be reduced based on the referral credits.
How long does it take for the credits to reflect in your account?
You will receive the credits as soon as your referral business completes their first order. You will be able to track the referral status in your 123PayStubs account. Under My Account Refer & Earn, you can access the total signup count and earned and available credits.
Refer and Earn with
123PayStubs
Get
$1.49

as a referral credit and save nearly

37%

on your next paystub!
Get In Touch
123PayStubs
2685 Celanese Road, Suite 100,
Rock Hill, SC 29732.